Having ethernet installed in your home not only can ensure internet connectivity from basement to loft, but can also add value to your home. Home refurbishments provide the right opportunity, an electrician will carry out the bulk of the works, and the rest requires very little IT knowledge (although it certainly helps).
If you're in a large home, and the router is the only device providing internet connectivity throughout, you likely suffer from wifi 'dead spots'.
Ethernet is the best way to provide guaranteed connectivity to the furthest reaches within your home. Locations like basements and lofts will benefit most, but also where you have stationary devices such as desktop computers, smart TVs, and games consoles. What's more is, with our increasing reliance on the internet, it may add value to your home, too.
The rule of thumb is: wire where you can and [wifi] mesh where you must.
What you'll need.
In a previous article, we explained your options for providing wifi throughout your home. This guide explains a minimal ethernet installation for the home. You'll need the following:
The right opportunity: home refurbishment.
An area reserved for your 'network cabinet', located within reasonable distance of the router / telephone master socket.
A ballpark budget of about £1000 (perhaps much less…), to pay for:

An electrician. A day's work, maybe?
Basic computer networking knowledge will help a lot. Perhaps a family member or friend..?
Kit, cables and sockets.
Install the sockets, lay cables, terminate at patch panel.
You'd ideally be in the midst of having some refurbishment work carried out, which will provide the perfect opportunity to lay some cables. Decide where you'll benefit from ethernet sockets (AKA data outlets). One socket is enough to serve a room – you can always add kit if you later find that you need more sockets.
All those data outlets will be wired back to one central location, near your master telephone socket.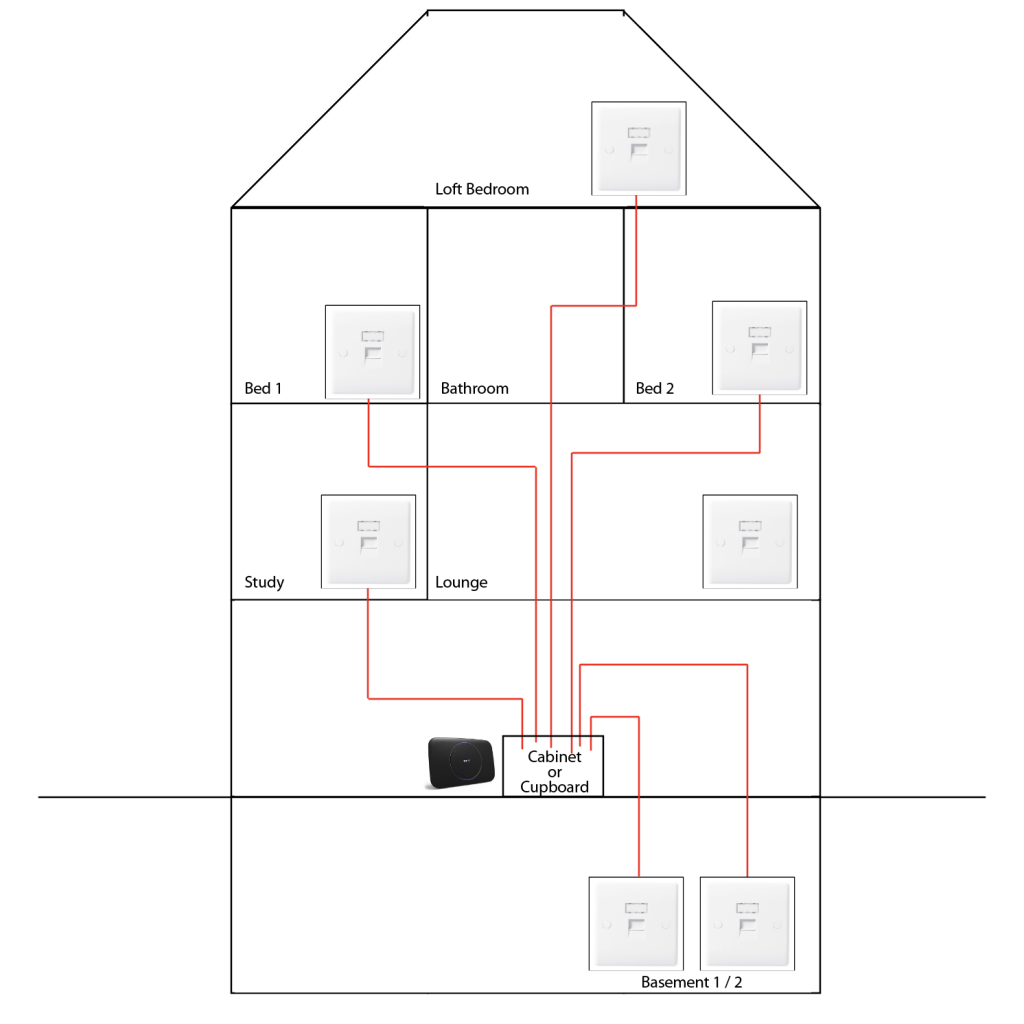 All the cables will be terminating within a patch panel.
An electrician will know how to do everything up to and including the patch panel.
The patch panel needs to be installed in a rack, or fitted to something, and typically it will be concealed, within a cabinet, or cupboard, with access to power, whilst being accessible and ventilated.
Inside the cabinet, or cupboard.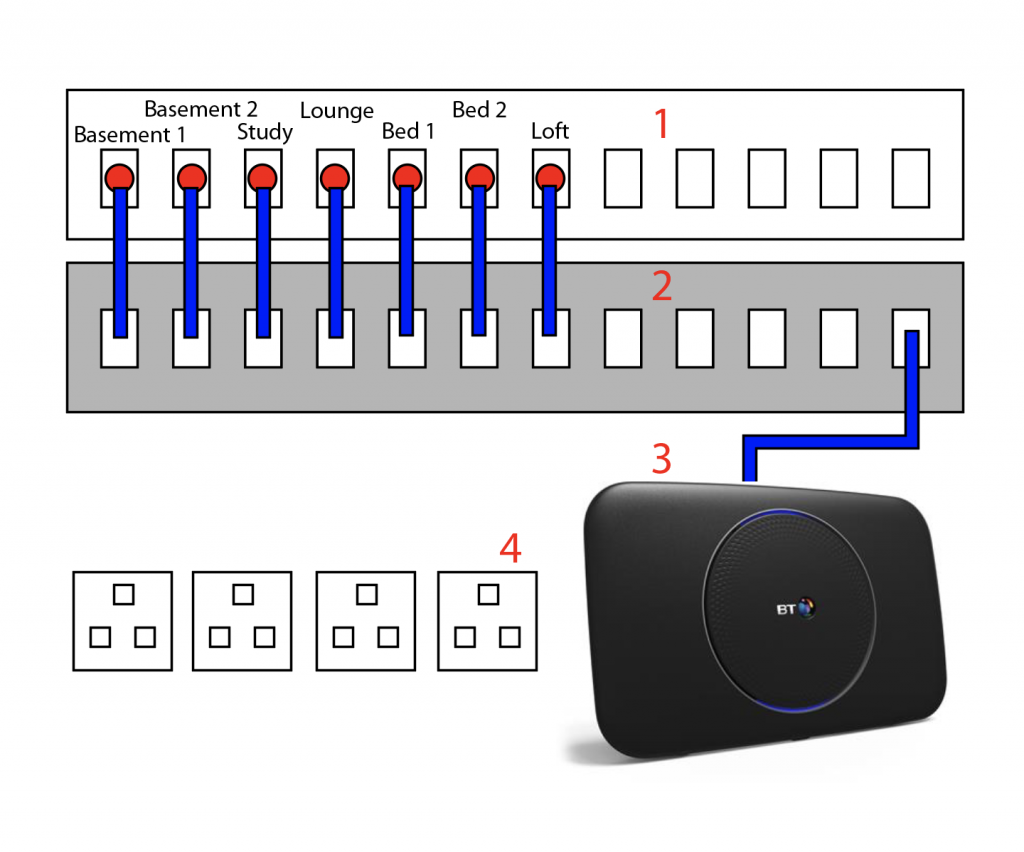 Along with the patch panel (1), you'll also need a network switch (2), which connects to the router (3). The router provides the switch with internet connectivity, and the switch, in turn, provides internet connectivity to the data outlets around the house. The patch panel is unpowered, but the network switch and router will need access to power (4).
Don't worry, none of this additional kit needs any computer-like configuring.
For this example, we have 7 data outlets installed around the house are wired to the patch panel. That's 7 active ports in the patch panel (1), each will need to be 'patched' into the network switch (2) using short ethernet patch cables. And the network switch, in turn, will be connected to your router (3) using another ethernet cable. The switch and the router will need power (4).
A few things need to be explained at this point.
Which patch panel?: Standard width, verses available space.
In the first diagram there's 7 ethernet sockets installed around the home, so in this case we'd only need a patch panel with 7 ports, only. A standard patch panel has 24 ports!: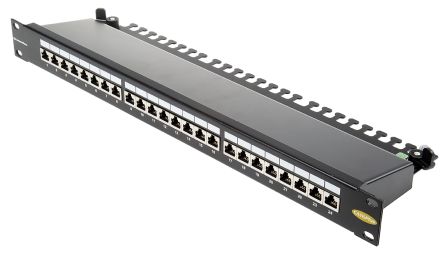 24 ports is overkill for this example. However, such network gear is designed to fit into a rack enclosure of a standardised width, about 49cm. Such racks are designed to keep networking equipment neat and accessible. For this reason, if you have the space, then consider installing a rack enclosed in a small network cabinet . Below is an example. An electrician can install your patch panel within such a cabinet.
However, if you're space-poor, you could go for a smaller 12 port patch panel, at about 26cm wide, which looks like this: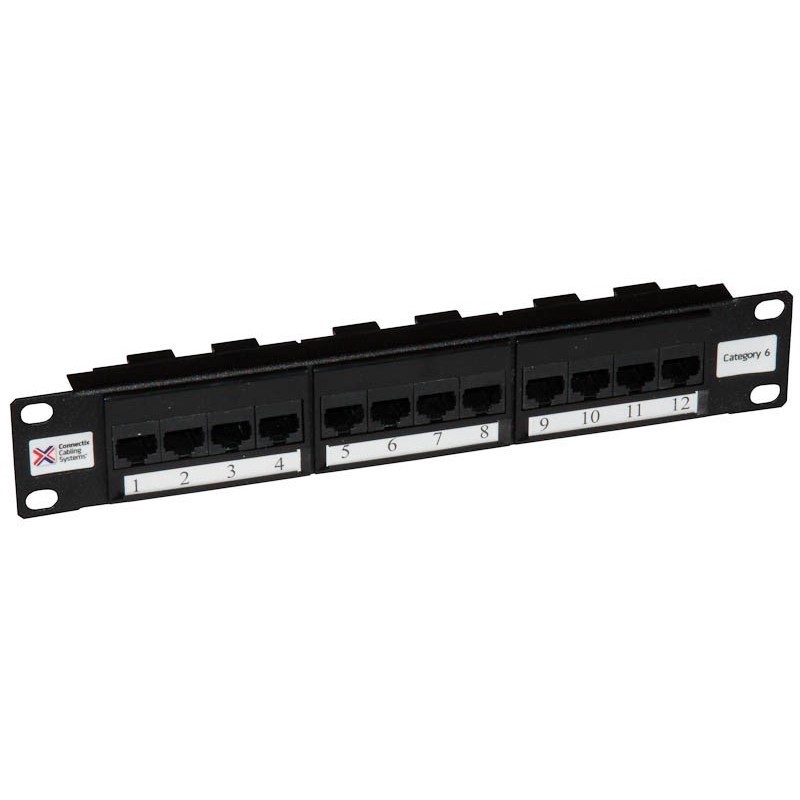 The problem is that, as far as I know, a cabinet designed to accommodate this smaller components doesn't exists! You'll need to secure the patch panel to something, as well as providing space for other gear. Therefore, you'll likely fix these devices to the wall, or improvise some sort of cabinet solution. The below image illustrates a rack-less setup, albeit with the wider 24 port patch panel.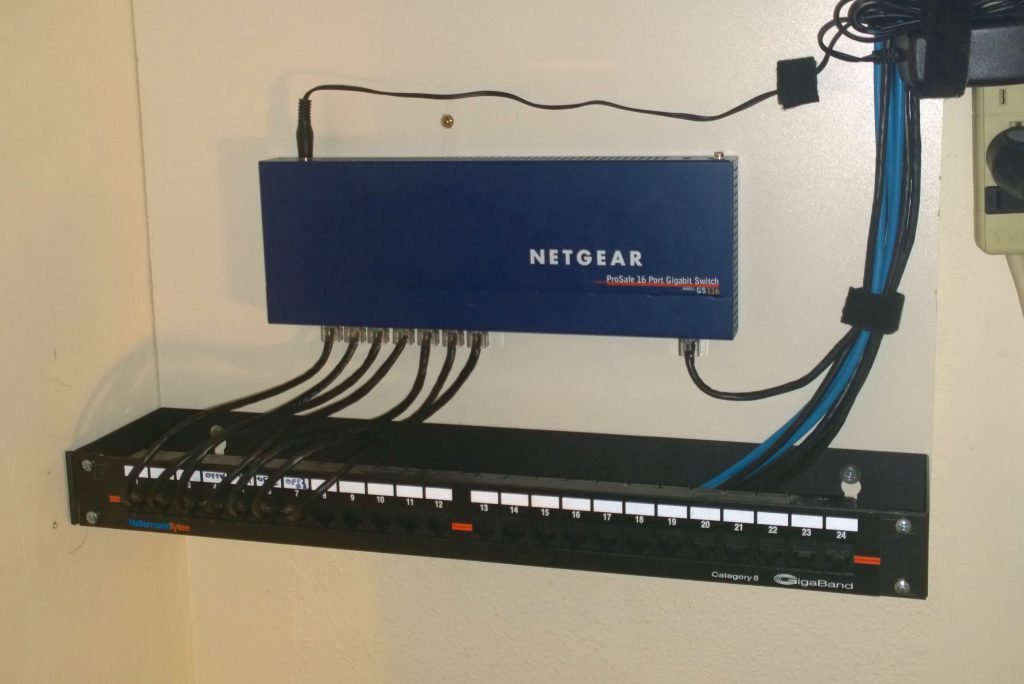 Watch this in-depth video describing a 12 port patch panel, along with its installation. Skip to 22 minutes in if you're in a rush.
Summary
So, in short, you'll need to allocate an area of either around 30cm, or 50cm for all your network gear. Height and depth varies.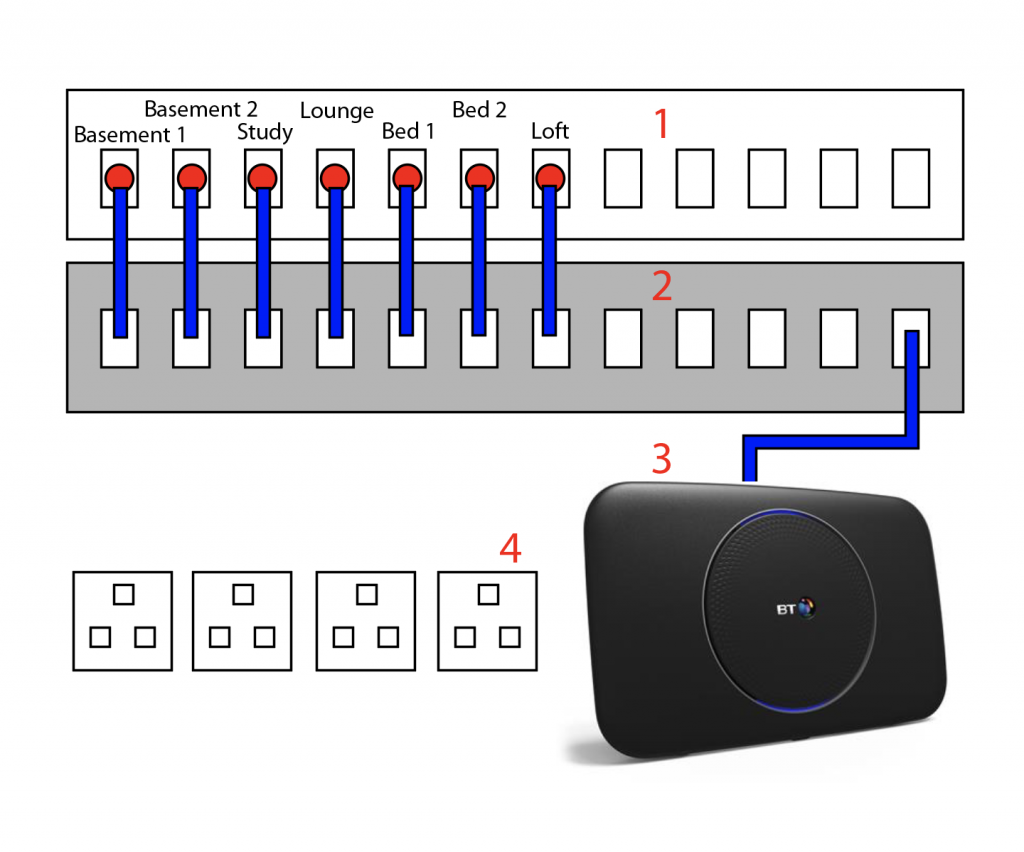 One you have the patch panel in place, you'll need a unmanaged network switch (2). For this example we only need it to provide 8 ports, but it's worth having a little headroom. Below is an image of a 16 port network switch:

The network switch is, in turn, connected to your router. The whole thing fits together a bit like this (apologies for this poor composite image, but hopefully you get the idea!):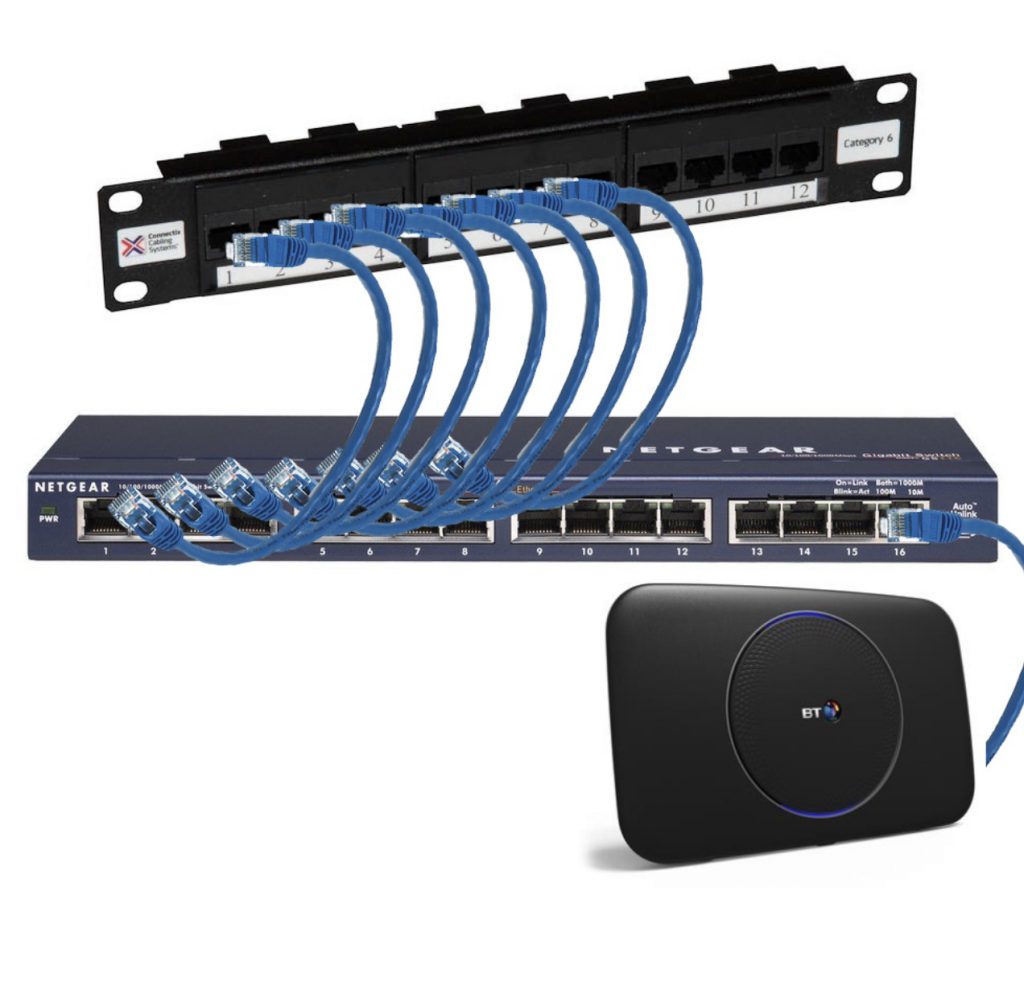 I've tried to keep the example here as minimal as possible. If you pursue the idea you'll find there are other considerations. For example, you could get a network switch that provides Power over Ethernet, which allows you to power certain devices right from the data outlet.